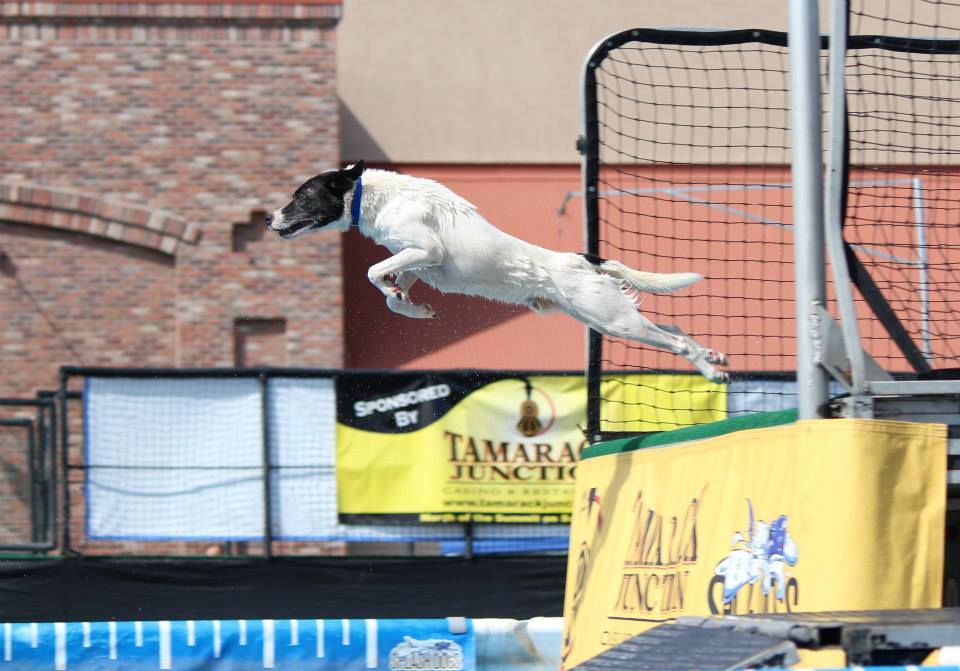 About Dock Jumping
Dock Jumping is often described as the long jump for dogs. Distance is measured from the end of the dock to the where the base of the dog's tail meets the water. It is a fun and exciting sport for dogs of all breeds who love to jump, swim and retrieve.  Our practice pool opens in late May 2022 in the North Valleys of Reno.  Our practice pool and dock is suitable for new dogs learning to swim through intermediate and advanced dock jumpers working on skills.  Our pool is not suitable for dogs jumping 24′ or over at this time.
Dog Sport Day Camp – Swimming & Dock Jumping
We know that you have a busy schedule but want your dog to have the best summer ever!  Whether you have a new dog just learning how to swim or an experienced competitor that needs more time on the dock, Dog Sport Day Camp with Liz is a great opportunity to get more time in the pool and on the dock.  Swim services are available on Monday, Wednesdays and Fridays.  Send your dog to the pool while you work!
Coaching and Lessons
We are offering private Swimming and Dock Jumping coaching sessions and lessons during the 2022 season.  Appointments are available as follows:
Tuesdays 11 AM – 12 PM
Wednesdays:  10 AM – 2 PM
Thursdays:  10 AM to 1 PM
Select Mondays and Fridays
Appointments MUST be confirmed by Revolution Dog Sports prior to arriving on the property.  To schedule your appointment, please text / call Liz at 775-298-1552 or email revolutiondogsports@gmail.com! 
Pool Rules
This pool is on a private property. It is a privilege to use this facility. Please be respectful of resident humans and animals, personal property and fixtures. Participants disturbing the residents may be asked to leave at any time. No refunds will be made.
Dogs must be kept on leash or crated in cars except when working in the pool area.
Dogs may not be thrown or pushed into the pull.
Pinch collars, choke chains and electronic collars are not permitted on the grounds.
Handlers must pick up after their dogs and pack out all trash and waste.
Handlers are responsible for the behavior of guests.
Alcohol is not permitted.
Exhibitors should not arrive more than 10 minutes prior their appointment or class.