From Foundation to Finesse  – and Beyond!
April 5 – 7, 2019
Reno, NV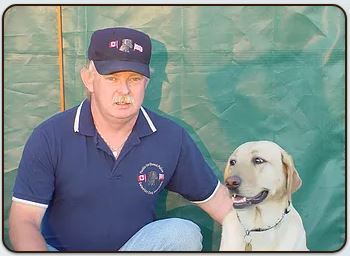 featuring Fred Helfers
This year's Spring Scent Work Camp focuses skill building for advanced competition in the sport of scent work.  From problem solving training challenges to improving handling skills for success, Fred brings his exceptional expertise to Revolution Dog Sports for an exceptional learning opportunity. Become the handler you want in the higher levels of scent work competition.  Offered search areas include a performance theater, complex interiors, warehouses and more.  Each day consists of classroom and practical hands on learning.
To learn more about Fred and his incredible history in working detection dogs, including narcotics, accelerant and invasive species in addition to helping competition scent work handlers the world over refine and develop their handling skills for success.  For a detailed history of Fred's history, be sure to visit https://www.fredhelfers.com/about.
Working Requirements:  Handler / Dog teams should be on Birch, Anise and Clove with a working knowledge of basic scent theory and leash handling.  Handlers may choose to work a different dog each day and in some cases, may choose to switch between dogs for specific exercises as needed.  Handlers may purchase up to two working spots per day if they wish to work two dogs in each practical learning session.  Working spots include lunch.  3 Day Working spots include a copy of The Nose Work Handler by Fred Helfers.
Deposit Only Full Registration
Auditors: Auditing is an exceptional learning experience in which individuals will not work their own dog but will be an integral part of discussion, lecture and learning theory.  Handlers of ALL skill levels are highly encouraged to audit.  Lunch is included.
Working Fees:
Super Star Sniffer – 3 Day Working Package:  $800
Super Sniffer – 2 Day Working Package:  $600
Single Sniffer – 1 Day Working Package:  $300 **
* Includes auditing third day.
** Available starting November 15, 2018
Auditing Fees:  $100 per day.  Lunch is included.
Registration:  Registration opens November 1, 2018 at 5 PM PDT.  A deposit of $100 is required to hold your spot.  Super Star and Super Sniffer Early Bird Discount – Paid in full by February 28, 2019:  Super Star Sniffer – $700, Super Sniffer – $550.  Single Sniffer packages must be paid in full upon registration.  Refunds:  Cancellations prior to March 1, 2019 will receive a full refund.  There are no refunds for cancellations on or after March 1, 2019 unless a replacement for the spot has been found.
Deposit Only Full Registration
Lodging: We use and recommend the La Quinta in Reno, NV.    Click here for additional details.  Have an RV?  Consider the KOA at Grand Sierra Resort.  Both the La Quinta and Grand Sierra Resort are within an easy 15 minute drive of working locations.