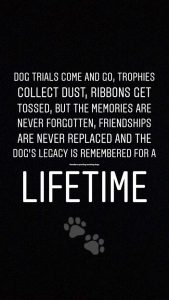 On behalf of Revolution Dog Sports, I would like to thank each and every one of you for attending this year's Cairn Terrier Club of Northern California fundraiser Barn Hunt trials. We could not have asked for a better group of people and dogs to spend the weekend with. A big thank you to our gracious hostess Lynn for opening her beautiful home to us. Thank you to our lovely and talented judge Lauren Claxton for coming all the way from Arizona to bring us fun and challenges courses with her great sense of humor. Thank you also to the membership of the Cairn Terrier Club of Northern California for all your hard work and dedication to this event. THANK YOU!
Congratulations to everyone on all your accomplishments, whether it was overcoming ring nerves or earning that next big RATCH. You did it and most importantly you each went home with the very best dog in the world. Congratulations to all the new title holders!
Jeri and RATCHX16 Taffe (Bedlington Terrier)
Bill and RATCHX15 Crush (Mixed Breed)
Cynthia and Bucky RATN (German Shepherd Dog)
Karen and Kyleigh RATN (Border Terrier)
Debra and Breezy RATN (Australian Cattle Dog)
Susan and Cricket CZ8S (Cocker Spaniel)
Elisabeth and Maizie RATI RATN (Standard Poodle)
Wendy and Maisey RATO TKN (Australian Cattle Dog)
Liz and Aden RATI (Parson Russell Terrier)
Cathy and Mili RATI (Cairn Terrier)
Terry and Zoey RATI (Cairn Terrier)
Kim and Blaze RATI (Cairn Terrier)
Sayli and Draco RATI (Samoyed)
Becky and Matsu RATI (Akita)
Karla and Mickey TKN (Border Collie)
Jennifer and Basil CGCA (German Shepherd Dog)
Results
The trial results are now available.  Please take a moment to review your dog's results for accuracy and report any errors to events@revolutiondogsports.com by no later than Wednesday May 2, 2018 at 9 PM.
Bark Bucks Earnings
What are Bark Bucks you ask?  Bark Bucks arre earned for High in Class, High Combined and special awards when offered at our trials. Use Bark Bucks to pay for classes, private lessons, board and train, seminars, equipment rental, event entries and more with Revolution Dog Sports.  To use them, simply send in your entry with a copy of the Award Rankings from this event.  
Point Crazy:  Blu – $25.00
Master of Masters:  Crush – $25.00
Speed Racer:

Novice:  Matsu – $5.00
Open:  Dara – $5.00
Master:  Crush – $5.00
Volunteer Raffle Winners
We couldn't host events without you.  Thank you so much to everyone who volunteered.  We appreciated having all of you!  The winners of this weekend's volunteer raffle are:
Sayli Benadikar – $25.00 Bark Bucks
Pam Nicolai – $25.00 Bark Bucks
Susan Oliver – $25.00 Bark Bucks
Karla Gracia – $25.00 Bark Bucks
Jennifer Bange – $10 Starbucks Gift Card
Julie Pryce – $10 Starbucks Gift Card
Thank you again to everyone for coming and making this year's CTCNC Barn Hunt Trials a success!
Save the date!  We'll be back April 20 – 21, 2019!