Revolution Dog Sports and the Sierra Nevada Scent Work Club are pleased to present
Fred Helfers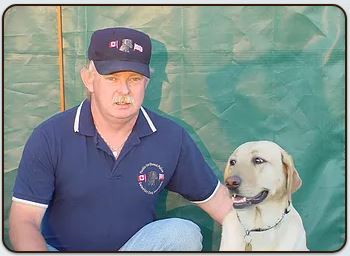 Friday June 1, 2018 & Saturday June 2, 2018
Classroom portions will be held at 3550 Barron Way #4B
Reno, Nevada
[button href="https://revolutiondogsports.com/store/#!/Fred-Helfers-Seminar/p/102034626/category=21874010″]Online Registration[/button]  [button href="https://revolutiondogsports.com/premiums/201806_HelfersSeminar.pdf"]Seminar Flyer[/button]
Payments may be mailed to Revolution Dog Sports, 561 Keystone Ave #377, Reno, NV 89503
With many years of experience as a detection dog handler, renowned trainer and author of The Nose Work Handler:  Foundation to Finesse, Fred brings his many years of experience in the field of detection dog handling and in the sport of Nosework to Reno.  Spaces are limited.  Register Online at revolutiondogsports.com or contact Liz at training@revolutiondogsports.com / 775-813-0856.  Entries cancelled before April 15, 2018 will receive a full refund.
Handler Error and Skill Building in Nosework
Identifying the 10 most Common Handler Error Faults
Friday June 1, 2018 
Classroom Only:  $150 |  Working Dog $175
Improve handling skills by establishing and applying a consistent maintenance training program.  This full day seminar includes a lecture and visual presentation in the morning followed by a working session where Fred will guide both novice and experienced teams through drills to increase their handling skills.  This is followed by a video review of working dog teams.  Classroom teams will attend the full day without dogs.  Limited to 6 working teams.
---
Understanding Olfaction and Odors
Increase your skill through knowledge.
Saturday June 2, 2018
Cost:  $150
This invaluable classroom full day seminar is for anyone interested in how dogs use their nose and detect odors, including competitors in scent work/nosework, barn hunt and tracking.  Topics discussed include:
Understanding the Canine Olfactory system – How the canine nose works.
Breathing Sniffing
Theory of scent discrimination.
The Odor molecule. – Factors Influencing Odor
Temp –  Wind –  Humidity  –
Definitions — Use of training aids – containment and handling.
Utilizing your knowledge of Odors and Olfaction in Nosework
Training scenarios and environmental issues.