We are excited to announce our amazing House League program for the Fall / Winter from September to March.  House League activities include Rally, Competition Obedience, Barn Hunt and Scent Work.  House League participation allows teams to hone their skills in a safe, supportive and fun environment.  Make new friends, build your skills, challenge your team in the sports and activities you love!
The Rally-O Mini League will begin Tuesday Septamber 4, 2018!  Course opens for walk through at 5:15 PM with the first dog on the line at 5:30 PM.  The cost is $100 for all four weeks or $30 to drop in.  Come join the fun!
Rally-O Mini League Rules:
Teams may run up to two courses each week.  The maximum score for each course is 100 points.  Each course will utilize AKC signs.  Deductions will be given for out of position, tight leash and slow to perform.  Treats may be utilized as stationary signs.  Course may be performed on or off lead.  No jumps will be utilized for this league.  Week 1 will begin with Novice and Intermediate level signs and progress to Excellent and Masters through Week 4.
Awards:
A prize will be given each week for the team earning the highest number of points.  In the event of a tie, the lowest total time will be utilized.  At the end of four weeks, the team accumulating the highest number of points will be awarded a trophy and gift basket.  Trophies will also be given to second through fourth place.
AKC Canine Good Citizen, Community Canine and Trick Dog Testing will also be available!
[button href="https://revolutiondogsports.com/store/#!/Rally-O-Mini-League/p/113631062/category=21874010″]Fall League Registrations[/button]
[button href="https://revolutiondogsports.com/store/#!/Title-and-Certificate-Testing/c/23893133/offset=0&sort=normal"]CGC & Trick Dog Testing[/button]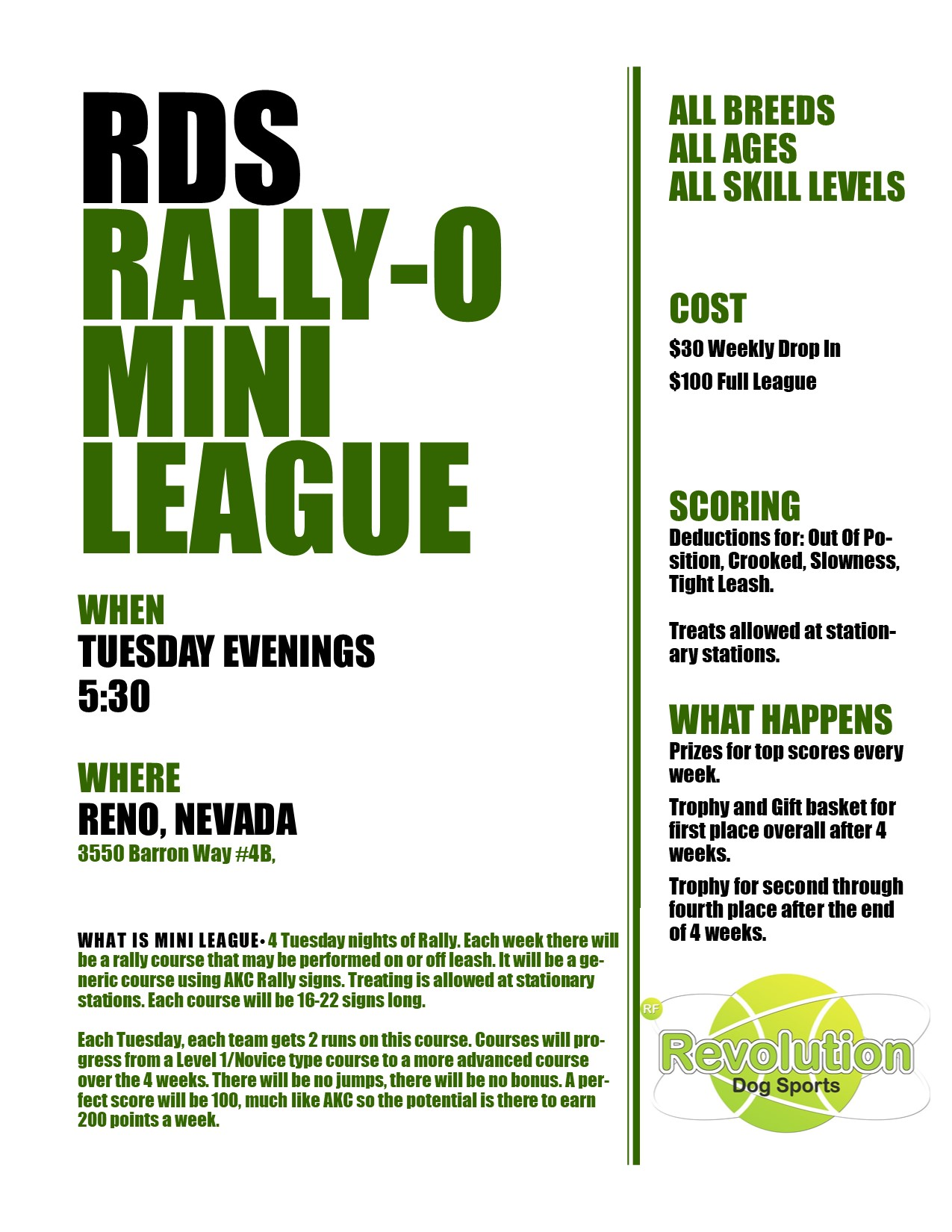 Next up on the League Calendar:
Barn Hunt Winter League (November – March)
Scent Work Fall / Winter League (September – March)