Linda:  I'm trying to find the words to put on his memorial cremation box.  Damn box isn't big enough.
Me:  We could borrow the Empire State Building and it wouldn't be big enough.
Where do I start?  How does one memorialize a legend, a true game changer?  How do you do justice to a bright star that overcame the seemingly impossible only to leave in the blink of an eye?  How did we pack so many memories into 7 years?  How did I get to lucky to be even a small part of this amazing adventure?  How did I have the opportunity to meet a dog who helped me grow as a trainer and as a person?  How is one dog so responsible for creating one of the most amazing friendships that I am thankful for each and every day?  How do you share that in a few short paragraphs?
The answer is simply:  You don't. 
In my mind I see flickering slideshow of magic moments, replaying short snippets of a lifetime.  As the kerchunk of the slide carousel moves to the next image, it pauses on this image:  A chubby puppy with a zipper nose and a big lolling tongue in a god awful sit.  He's set against the backdrop of a garish red cinderblock wall with happy white pawprints interspersed with agility equipment, mismatched mats and the chain link fence that separated this newly acquired training facility from the newspaper printing presses.  I can smell the paper, ink, dog hair, rubber and my own fear.  There is a trainer in my sport puppy class, my first as the new owner of this company.  The puppy barks, then lunges.  He's so much dog already.  His trainer mom refers to him as Baby Hughy.  I say he has big feelings.  We both laugh because we are both right.  We start practicing perch work for rear end awareness and fancy pivots while heeling.
Kerchunk.  We're in a small barn on a frigid frosty morning not unlike today.  "I want to try something," I say.  "Hold him by his chest and pull him back just a few inches from the tube.  I'm going to make it run." Linda wrestles her arms around Clooney's broad chest and pulls back.  Clooney's muscles coil like a spring and I say, "Get it!" as I wiggle the tube just a few inches away.  Clooney lunges forward and bites end cap out of my hand.  We cheer like he's just made the winning field goal kick at the Super Bowl.  Clooney grabs his tug and whines and barks all his big feelings.  Oppositional reflex for the win.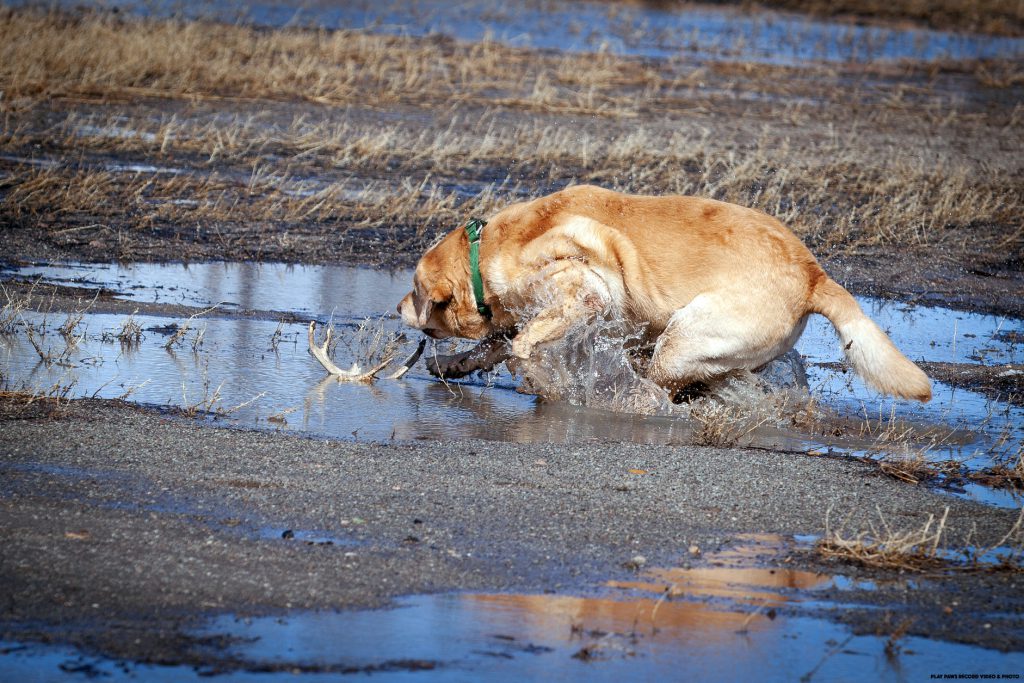 Kerchunk.  It's overcast but it's hot.  I've come from running dogs and grabbed deodorant out of my bag so maybe I don't quite smell like I've been in a cow field all day with a thousand dogs.  I've thrown white boxes all over the basketball court.  The park is ridiculously busy and the guy with the off leash cattle dog is on the move…again.  Linda and I are chatting and Clooney is giving me a look I have never seen before.  I keep glancing at him out of the corner of my eye.  With a mighty yowl he lunges right to my armpit.  Linda gives her trademark, "Clooney STOP" with exasperation, pulling back on the leash.  Now we have shutzhund Labrador leaning into his turquoise Ruffwear harness assaulting my armpit.  I'm an idiot.  I grabbed the stick of antler odor instead of my deodorant.  Shed beats birch every time.  We laugh so hard my face hurt. 
Kerchunk.  Now we're at a park at sunset working in the covered pavilion.  Linda is on her hands and knees after tripping on the air while executing the most magnificent, connected piece of heelwork yet in this new and distracting place.  Clooney is standing beside her also looking at me.  They mirror each other.  I am so worried because the fall was so hard.  I ask Linda if she's okay and she spits out her front tooth.  I am convinced at least her nose if not her eye socket is broken.  Nothing is where is should be.  There is blood and swelling and everything slows down as I do the things that need to be done.  I take Clooney's leash and take him to the Jeep, grateful that my other student is a brilliant nurse and amazing human.  This is the first time I've loaded Clooney into the car and he knows it.  He looks at me with something along the lines of, "Are you serious?" I look at him with my best I live with terriers, don't you dare sass me right now face and say, "Load up."  And he does, with a deep sigh that sounds suspiciously like a raspberry through his big yellow jowls.  He makes direct eye contact with me again.  I can see his expression so clearly.  "Yes," I say.  "You are a very good boy." And I give him all the snacks because he was, in fact, a very good boy.  I spend the right of the night just as worried about Clooney waiting in the car outside first Urgent Care and then the Emergency Room as I am about Linda. 
Kerchunk. "Okay, so what if it's a random draw.  You'll know how many you have, but it will always be different.  We'll go on a walk through the field just like we're out hunting.  I'm not sure if you should clear the area or you can go back.  Um…Four minutes? Five minutes? That sounds right."  It's hot and dry.  We're standing on a mostly manicured grass field staring into acres of sage brush with a few trees.  I've got a handful of antlers and a couple survey flags.  "Take him over there behind that three and I'll throw."  The number is two.  I throw one and it lands three feet off the ground in sage brush.  Jesus.  We've said it's like golf.  Play it where it lies.  Clooney searches with determination.  It's hot and dusty as we head along our path.  He circles and spins, crashing through the sage brush.  His nose is going a million miles a minute.  He knows it's here.  At last, he finds it, plucking it out of the bush with surprisingly great care as if it were made of porcelain.  It's dangling out of his mouth as he turns to me.  Not Linda.  Me.  He makes direct eye contact with me.  "Are you fucking serious?" we call clearly hear him say as he snorts, adjusts the shed and takes it directly to Linda, giving me the side eye the entire time.  Clooney never forgets that I sometimes am an idiot and from that day on always checks up for sheds.
Kerchunk.  We're at the arena in the big ring.  It's sunny, bright and starting to get a bit warm.  Everyone has left.  My class is over.  The next stop for Linda and Clooney is UC Davis for brain surgery.  Clooney is on heavy drugs to reduce the swelling and to keep the seizures at bay.  His sense of smell has been heavily impacted and his motor skills are delayed.  But he wants to play.  I keep the rat in a quarry box so he can see it and low so he can easily maneuver to find it.  We have so much fun.  At the end, he grabs an orange plastic start box marker and carries it outside to the car.  Linda and I talk about outcomes and realities.  I hug him and cry into the thick loose skin of his big yellow neck as he chews on the marker.  I tell him he's brilliant and wonderful.  He's the very best dog and he's got this.  I tell him I love him and that if this is the last time I see him, I am understand but it better not be because we're not ready.  We will never be ready.  The half-chewed marker stays next to my parking spot by the cattle loader for months, all through the summer, into fall and through the start of winter.  I can't bring myself to move it.  It becomes a reminder that he's been there and will always be there.
Kerchunk.  "You did it!" I cheer, tears welling in my eyes.  Clooney stares at me, shaved head slightly lifted, and I deliver the snacks.  It's the highest I've seen him lift his head since surgery.  He stands with his back to feet on a Cato board, his front two feet in front of me.  I put a cookie on the floor slightly ahead of him.  He shifts his weight forward.  One pack paw comes off the platform.  He slowly looks up; his weight slowly shifts back and for the second time his back paw slowly bumps and catches the edge of the platform.  It's as magic as the first time.  I take video after video.  It's slow but it's happening and it's brilliant.
Kerchunk.  Clooney is growing mold.  Or at least that's what Linda first thought it was.  It turns out that Clooney is growing hair at long last.  We're at the Fur and Feather Works training center for rally class.  This isn't Clooney's favorite sport but he's enjoying every moment of movement.  I think that he's just as excited as we are that his body is catching up to his brain.  Linda and Clooney make a left turn and Clooney's rear end pivots with precision.  I exclaim, "That looks AMAZING!" And it is.  Clooney seems just delighted as we are that his body moved exactly where he wanted it to.  Maybe we'll do virtual rally. 
Kerchunk. "Holy shit, he's back," I saw as Clooney takes off out of the start box at Barn Hunt class.  He tears across the ring with determination, catches odor and makes several left-hand turns trying to get to the rat.  The spins came after the surgery.  We're practicing turning right but also learning how to work with the spins.  The higher his arousal, the faster and tighter the spin.  We're getting the hang of it.  So is Clooney.  When he finds the elusive rat near the tunnel, he sniffs at it, tail wagging.  Linda pets him, pulls him back slightly and lets him go back.  He bites the end cap and drags it out.  Maybe we can do the Grand National?  We have realistic goals to his new skill level but wouldn't it be wonderful to celebrate him there.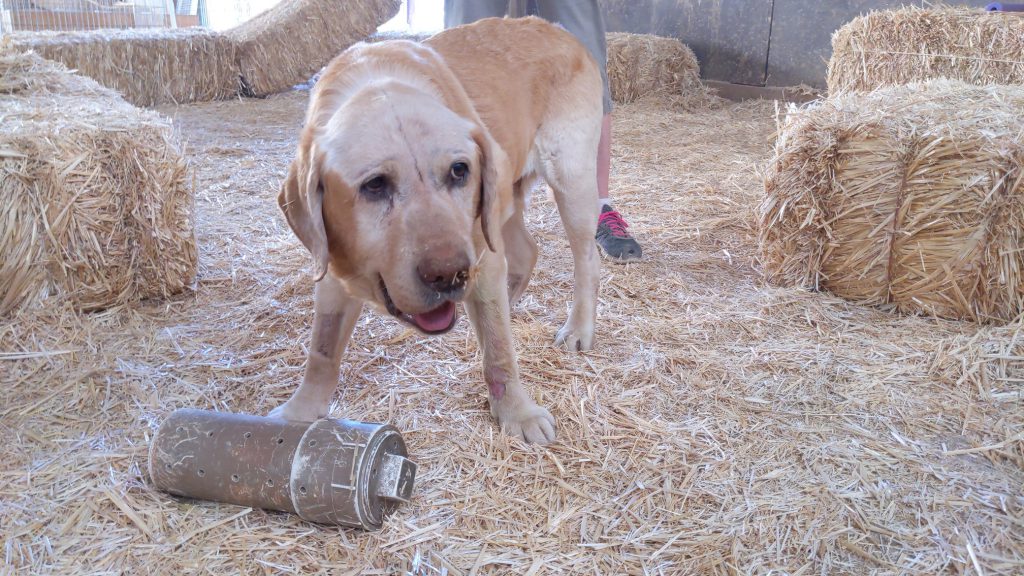 Kerchunk.  We make good choices.  They are hard choices.  No one wants to say the things that need to be said until I gather everyone in a group chat and just say it.  We have ill or injured dogs.  We're evacuated.  We're in the next wave of the pandemic.  Things are happening that we can't control.  This choice to stay home could be the one thing we can do to take control of our lives and to help our dogs be the best they can be.  It's so hard but there's always next year.  Next year.
Kerchunk.  It's a world of frosted wonder.  Freezing fog has decorated the ranch in sparkling ice.  The sun is emerging, and the day is full of promise.  As I potty my own dogs I note that the half chewed orange marker is missing from the cattle loader.  I'm not sad.  I smile and think it's a good sign.  We've come so far, it's going to be amazing.  It's day three of Barn Hunt and it's been an amazing trial to end the year with.  Our teams are achieving their goals in and out of the ring.  We're spending time with people we love and sending updates to those who couldn't make it.  We're laughing and celebrating and dealing with the odd challenge here and there like a broken coffee pot or an abandoned printer.  Clooney is amazing.  He starts out a bit slow and then finds his groove.  I'm immediately struck by how stable he is as he climbs structures in Open B.  He's so happy and confident.  He's finding his rats and while he sometimes needs assistance from Linda, he's barely circling left and grabbing every last end cap like a beast.  He's always ready to go.  He loves this so much.  There are matching smiles and his and Linda's face.  I'm smiling.  Linda and I chat about moving to senior.  "Maybe even Master at a Thursday trial," I suggest.  "He's looking so good and clearly is really enjoying it."  We marvel in how far he's come in the past six months.  Linda says she finally feels comfortable traveling with him.  I'm excited.  It's been such a hard year but we're finally starting to look ahead.  The next trial of Open is even better.  He's moving so much faster and with so much purpose.  When he leaves the ring, he takes his tug from Linda.  They're both so happy.  The golden light in the arena frames them, the dust particles almost glittering in the air.  I was so struck by this moment.  It reminded me so much of when he earned his Novice title out at Mary's, and we took pictures in the golden winter light just a few short years ago.  He did it.  He has defied the odds.  We hopefully have another year, maybe three. 
Kerchunk.  It's just a couple hours after the trial.  I'm speeding through the dark in a beat-up minivan Linda gracious accompanied me with the buy between a dog show and Mexican food.  I'm voice texting my plan.  The back of the van is empty.  You can ride with him.  I can see the three dots.  Linda's typing.  They start and stop.  I dart in and out of traffic.  More dots.  I'm past the spaghetti bowl.  I'm staring into the fog that is starting to roll back in.  The bridge will be icy, I think.  The dots stop and my phone rings.  I know before I answer it what I'm going to hear.  We never call.  We hate the phone.  When we call, it's the worst.  This is the third call.  I know what's coming even before I hear her voice and as I struggle to listen to the words and really hear them my heart falls into the pile of energy drinks, dog leashes and treat bags between the seats.  I know.  I know.  And it's not fucking fair. 
In my mind, I turn off that projector.  I hear the fan slowly die.  The blank screen of my mind clouds over with heartbreak I feel.  I can go back anytime and there are still a few memories to add, but it will never be the same.
It's been twenty four hours and I am struggling to process, struggling to wrap my mind around the fact that he's gone.  Linda's handsome strong beast has left us.  It was so sudden and unexpected without any warning that it's still hard to believe it happened at all.  When we was diagnosed with the brain tumor in May, we knew Clooney's time with us would be short but there was no preparing for the suddenness of which he would leave us.  It happened so fast that there was no opportunity to make peace with the inevitable, to temper the storm of loss by enjoying the moments we know are surely the last we will share with a loved one.  The grief is so sharp it has left us ragged and bleeding from wounds you cannot see but are there. 
There will be no more sass grumbling whines.  There are so many rats, sheds, lost items and hides that will go unfound.  No more me saying, "Jesus Christ, Clooney, could you just wait?" or Linda hollering, "Knock it off, Clooney!"  No more slime covered, half bit off fingers.  No more sheds in snow storms.  No more two person wrangling at the gate then land sealing off the dock.  No more small victories.  No more larger than life Labrador presence demanding butt scratches. 
But for everything we have lost, we have gained so much more.  Clooney gave us new classes of competition in NASDA.  He gave us invaluable training experience.  He gave us adventure.  He gave us lifelong friendships.  He gave us laughter.  He gave us stories that will be shared for years to come.  He gave us a village of amazing people both near and far.  He gave us goals.  He gave us purpose.  He gave us inspiration.  But most of all he gave us so much love and hope with memories that we will carry with us and enrich the lives of others with. 
I wasn't ready to say goodbye, but I am so grateful for seven incredible years.  If we'd had a thousand more, it wouldn't have been enough. 
To my dear friend Linda, thank you for sharing so much of Clooney with all of us these past seven years.  I know there are no words I can offer to soothe a broken heart or heal the soul.  I have always believed Clooney's presence on this earth was too large to be contained by only one heart.  He had so much to share with all of us and you have been so incredibly gracious and kind to let us share in this adventure.  He gave me a family in you I didn't even know I needed and that I cannot imagine a life without.  Thank you and I am so very, very sorry we didn't have more time to do all the things.  I know that Clooney will be with us in whatever we do and wherever we go.  He will be forever by your side and in your heart.  You are so very loved and never alone.
And to you, Clooney.  Thank you.  We know that just as you've found so many things in the past, you will find us when we need it most.  You were amazing and will always be a legend.